Our caring and compassionate veterinary care team!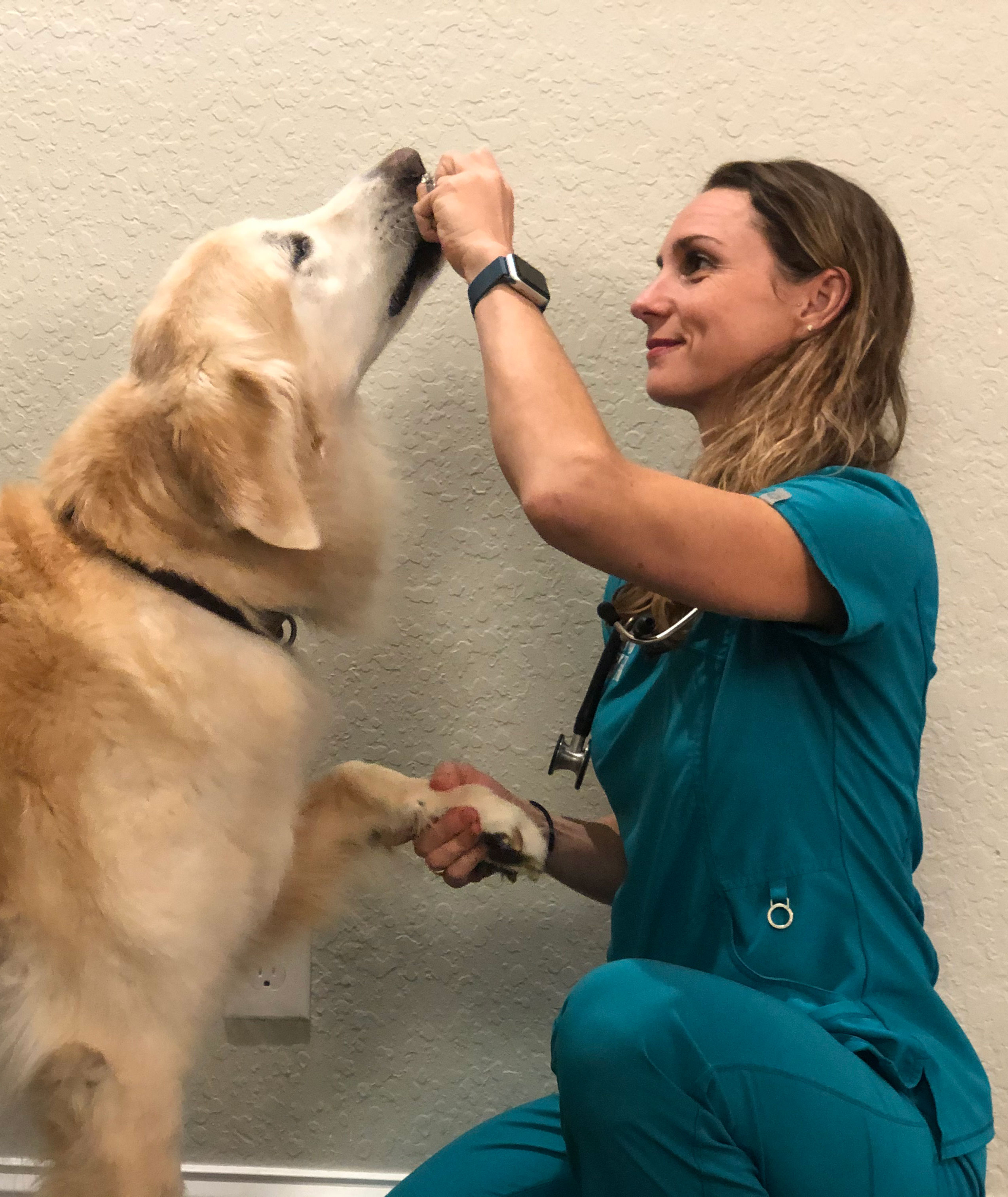 Stephanie Badge Kindred
DVM, CCRT
Dr. Badge graduated from the University of Florida College of Veterinary Medicine in 2006. After graduation, she practiced general medicine for several years and then transitioned to exclusively emergency medicine and critical care for nearly 3 years before returning to general practice at West Orange Veterinary Hospital in 2012.
Dr. Badge has a long history with physical rehabilitation in her personal life. Growing up, she was a competitive gymnast who sustained several significant injuries and surgeries that landed her in the care of human physical therapists. Even at a young age, she was able to see the impact that rehabilitation had on improving recovery times, preventing re-injury, and improving overall performance.
When physical rehabilitation started making its way into veterinary medicine, she knew this would be an area full of inspiration and growth that she needed to be a part of. In 2014, Dr. Badge completed the Certified Canine Rehabilitation Therapist (CCRT) Program through the Canine Rehabilitation Institute. Since that time she has performed physical rehabilitation on patients affected by a wide range of conditions, but she has a special place in her heart for geriatric patients. She believes strongly that with improved mobility comes improved quality of life not only for the pet, but also for the pet parent, and she strives to empower pet parents to be an integral part in making their pet's golden years shine as brightly as possible.
Dr. Badge provides physical rehabilitation services through Up Dog Veterinary Rehabilitation and she also continues to practice general medicine at West Orange Veterinary Hospital. Her professional interests include canine and feline physical rehabilitation, geriatric and hospice care, internal medicine, and emergency medicine/critical care. She is an active member of the American Veterinary Medical Association and the American Association of Rehabilitation Veterinarians. She stays involved in the community by offering no-cost veterinary services to a local women's shelter and educating younger generations about the amazing career of veterinary medicine any chance she gets.
Dr. Badge and her husband (also a veterinarian!) have 2 children, 3 dogs, and 2 cats that keep them busy when they're out of the office but they still try to find time to enjoy their hobbies. In her free time, she enjoys cooking, traveling, exercising, horseback riding, and practicing yoga. Dr. Badge is actually a certified yoga instructor and this background served as her source of inspiration for the name "Up Dog Veterinary Rehabilitation", after the yoga pose! She and her husband are proud alumni of the University of Florida and enjoy cheering on their home team…. Go Gators!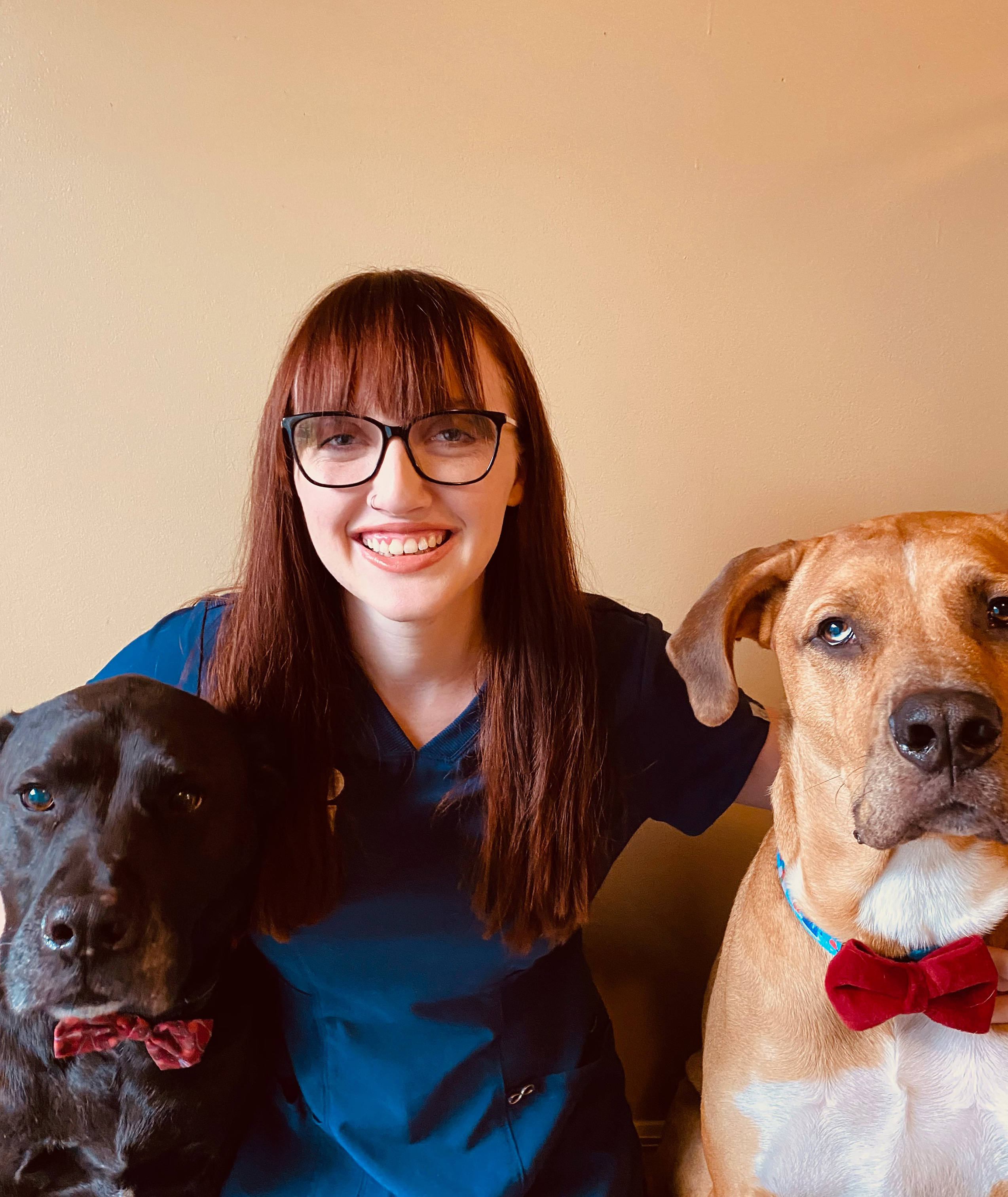 Caitlin Miller
lead rehabilitation technician
Caitlin, a native of Central Florida, joined our team in February of 2019. Prior to working here, she was both a veterinary receptionist as well as an emergency medical technician. She has a strong interest in animal rehabilitation and cold laser therapy and is excited to be starting the Canine Rehabilitation Assistant program through the Canine Rehabilitation Institute. This program will provide her with specialized training in the field as well as additional certification credentials. Caitlin is currently serving as the lead rehabilitation technician and designated rehab client coordinator here at Up Dog and she works very closely with Dr. Badge. Caitlin is always smiling and her kind demeanor is appreciated by our patients and clients alike! You can expect to interact with her frequently while your pet is under our care as she is typically the point of contact for all of our rehab clients.
Outside of work Caitlin enjoys spending time with her dog, Gambino, and her 3 younger brothers. She also enjoys watching movies, hiking and decorating for the holidays.